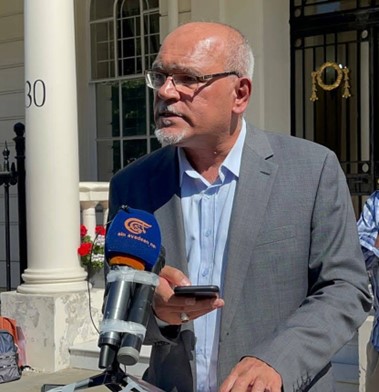 CIVICUS speaks about the situation of political prisoners on hunger strike in Bahrain with Jawad Fairooz, founder and director of Salam for Democracy and Human Rights (Salam DHR).
Founded in 2012, Salam DHR is a human rights civil society organisation (CSO) registered in France, Switzerland and the UK. It undertakes research and advocacy for the advancement of democracy and human rights, mainly in relation to Bahrain, but also in the wider Gulf and Middle East and North Africa regions.
Maryam al-Khawaja, daughter of imprisoned human rights defender Abdulhadi al-Khawaja, intends to return to Bahrain imminently to ensure her father gets medical treatment and press for his immediate and unconditional release. Yet she, too, faces possible arrest. What's your assessment of the situation?
Abdulhadi al-Khawaja, 62, a dual Danish-Bahraini citizen, is the co-founder of the Bahrain Center for Human Rights and has a long history of activism. He was arrested by the government of Bahrain in 2004, 2007 and again amid mass unrest in April 2011. After this he faced a grossly unfair trial before a military court, including on charges of 'seeking to overthrow the government'. He was tortured in pretrial custody and since his arbitrary imprisonment he has been repeatedly denied access to adequate healthcare.
On 9 August he joined some 800 other hunger strikers. They called for an end to lockdown policies that require them to spend up to 23 hours of the day in their cells, the suspension of solitary confinement, the opportunity for collective or congregational prayer in Jau Prison's mosque, face-to-face meeting rights with family members without a glass screen and access to healthcare commensurate with that available to the public, among other improvements in prison conditions.
On 13 September the mass hunger strike ended with the authorities reportedly meeting many of these demands. This came as Bahrain's Crown Prince visited Washington, DC, where he met with senior members of the Biden administration: the problem had to go away.
Maryam nevertheless intends to travel and she has our full support. We continue to call for Abdulhadi's immediate and unconditional release. The Danish and European Union (EU) authorities must do more.
What is at the core of this problem is the absence of civic space in Bahrain. If there was space for independent civil society, then CSOs would have effectively alerted the authorities to prison conditions and they could have addressed the situation. An independent civic space makes it possible to find a balance in government conduct.
What does this mean for Maryam al-Khawaja and our courageous colleagues travelling with her? It means they should be allowed to enter Bahrain and make their demands. The government should engage with them in a spirit of transparency. The absolute worst that could happen is for dissent to be tolerated just a little bit more. While this seems unlikely to happen, it is what the government should do. We wish them all Godspeed.
How is it possible to conduct human rights activism in such a closed environment? How does Salam DHR do it?
Bahrain has closed civic space. Government officials decide which CSOs can be registered and who can stand for their boards. They prevent people from engaging in public life who have no criminal records or public complaints but rather perhaps a past association with a political movement or party that was unfairly banned years ago.
The Bahraini constitution provides for freedoms and safeguards similar to many other states, but the reality is that the government continues to carry out arbitrary arrests and stage unfair trials for acts that are not internationally recognised as crimes. The authorities torture detainees and use the death penalty, despite domestic opposition and international condemnation. They have stripped hundreds, including myself, of citizenship, depriving us of even the right to have rights in our homeland. They use the digital space to monitor and punish dissent and to foment religious and sectarian strife.
Activists linked with Salam DHR cannot, in effect, exercise their right to peaceful assembly, let alone openly campaign for freedoms of association and expression, the release of prisoners unfairly tried and imprisoned or a moratorium on the death penalty. They would risk arrest if they did that.
Yet engaging in civic activism is not totally impossible, only very challenging. Alongside CIVICUS and other partners, Salam DHR engages with allies and like-minded activists as well as the few CSOs that openly but cautiously raise human rights concerns so that the wider Bahraini society hears our message. We echo and amplify their appeals.
We are a catalyst: we help Bahraini activists access platforms to reach domestic and international audiences and provide training and development opportunities such as internships. Alone and in partnership with others, we research, document and publicise developments, grounding our message in article 25 of the International Covenant on Civil and Political Rights, which states that every citizen shall have the right and the opportunity to take part in the conduct of public affairs.
How useful for advocacy purposes was the global event held by the Inter-Parliamentary Union (IPU) in Bahrain's capital, Manama, in March 2023?
It was mixed: Danish parliamentarians and those from other countries addressed human rights issues and the absence of an independent civic space. The IPU's human rights team raised concerns about freedom of expression and violations against Bahraini parliamentarians. But despite the IPU's affiliated status with the United Nations (UN), the government still denied access to independent observers and human rights organisations, denying them either visas or access and turning at least one around at the airport. This was the authorities once again restricting civic space.
A few days before the IPU meeting officially began, Bahraini lawyer and activist Ebrahim Al-Mannai called for parliamentary reforms on social media. He and three others who shared his post were arrested for publishing material that could 'disturb public order'.
At the event itself, the government appeared uninterested in seriously engaging with visiting parliamentarians on human rights issues, despite attempts from the Danish delegation and representatives from Finland, Iceland and Ireland. Our message is clear: open up civic space, free up CSOs and political parties and liberate discourse, otherwise the cycle of political unrest will continue.
Reports indicate that the mass hunger strike in Jau Prison has ended. What's your assessment of this episode?
The painful August 2023 mass hunger strike was wholly avoidable. It happened mainly due to the government's stubborn and short-sighted refusal to allow civic space to exist even to a minimum degree. Had there been freedoms of expression and peaceful assembly, they would have known of the deep suffering at Jau Prison. If you don't let people say what they think, then public life can only lurch from crisis to crisis.
The hunger strike was the expression of the accumulation of a number of factors that have been present in Bahraini prisons for years and it was based on grievances that have been repeatedly expressed: prison conditions and ill treatment of prisoners amounting to torture. The abuses worsened and conditions deteriorated during the COVID-19 pandemic. In 2021, medical neglect resulted in the deaths of two prisoners, Hussein Barakat and Abbas Mallalah.
We appeal once more to the authorities to allow for the opening of civic space and provide a social vent to end the cycle of human rights crises we face.
Is the international community doing all it can to support the struggle for democracy and human rights in Bahrain?
International human rights organisations, UN treaty bodies and Special Procedures and partner states, for instance in the context of the UN Human Rights Council Universal Periodic Review process of Bahrain, have all joined us in calling on the government of Bahrain to abide by its international human rights obligations, starting with the basic step of letting people have a voice in public life.
Today, 15 September, is International Day of Democracy, and we are joining the UN in calling on the government of Bahrain to empower the next generation by ensuring that their voices are included in the decisions that will have a profound impact on their world. In his address, UN Secretary-General António Guterres has warned that 'walls are closing in on civic spaces'. Those walls are also the walls of Jau Prison, where it took 800 detainees' unjust suffering for the government to even take notice.
But the UN has also let neighbouring United Arab Emirates, which is as closed as Bahrain, host the forthcoming COP28 climate change summit. Lack of civic space means there can be no activism for climate justice in Bahrain – for instance, no public demands for accountability can be expressed over costly and environmentally damaging land reclamation in Bahrain's northeast, which has already eroded the livelihood of fishing communities. We need to be able to address these challenges openly, with a rights-based approach, to avoid a future calamity.
And powerful states that could be putting some pressure for change are avoiding the issue. Right now, Bahrain's Crown Prince is wrapping up meetings with senior Biden administration officials, none of whom appear to have raised civic space concerns or addressed the needless suffering of 800 Bahraini prisoners. The UK has removed Bahrain from its list of 'countries of concern' at the same time as it trumpeted a billion-dollar Bahraini investment in the UK. In October the EU will recommence its cycle of so-called human rights dialogues.
The international community's inexplicable complacency over the festering human rights quagmire in Bahrain will further embolden the government in crushing civic space. Many leaders miss the point when it comes to Bahrain and its Gulf neighbours: they appear to accept the facade of what is presented as pragmatic autocracy and appear to accept regional rulers' colonial-mindset contention that democracy will destabilise the region.
Democracies have in fact produced the most stable, enduring and dynamic systems in the world. Human rights and democracy are essential for Bahrain and its neighbours because their deficits continue to be the primary cause of resentment and unrest. A security-based approach does not remedy these problems. Bahrain's history has shown these methods to be a failure, as it has endured continuous waves of mass unrest followed by violent crackdowns.
Authoritarianism and the forms of violence it fosters are the real destabilising forces, a cycle that can only be broken through the recognition and enactment of democratic rights. The first step towards this goal is simply letting civic space exist.
---
Civic space in Bahrain is rated 'closed' by the CIVICUS Monitor.
Get in touch with Salam for Democracy and Human Rights through its website and follow @SALAM_DHR and @JawadFairooz on Twitter.