Parliament has cancelled the legal registration of nine civil society organisations (CSOs)
The move comes after some of the CSOs participated in hearings into human rights violations at the Inter-American Commission on Human Rights
The shutdown of CSOs comes at a time of serious attacks on fundamental freedoms in Nicaragua
Global civil society groups express concern that more Nicaraguan CSOs may be targeted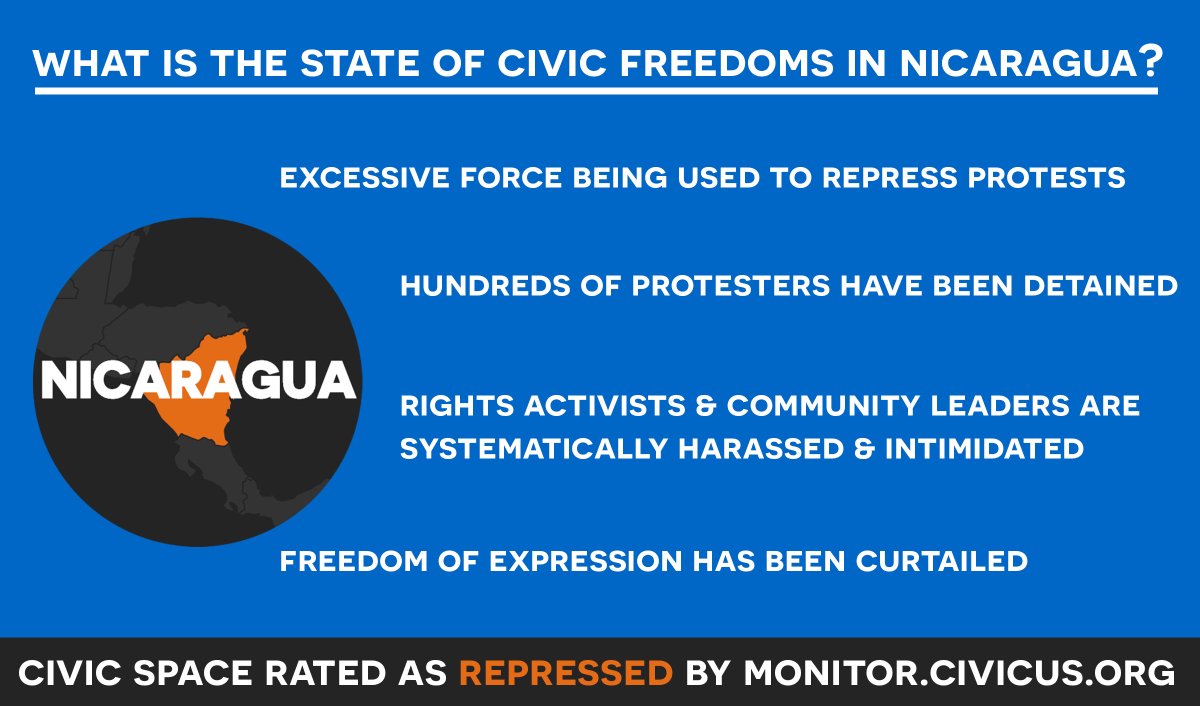 Global civil society alliance, CIVICUS, has condemned the cancellation of the legal registration status of nine civil society organisations in Nicaragua as an affront to the right to freedom of association. The move to shut down the groups is seen to be in retaliation for their participation in hearings on Nicaragua's deteriorating human rights situation at the Inter-American Commission on Human Rights.
On December 12, Nicaragua's parliament voted to cancel the legal registration of the human rights organisation, Centro Nicaraguense de Derechos Humanos (CENIDH). The following day they voted again to cancel the registration of five more organisations including Instituto de liderazgo las Segovias (ILLS), Instituto para el Desarrollo de la Democracia (IPADE), Fundación del Rio, Centro de Investigación de la Comunicación (CINCO) and Fundación Popol Na.
Just a week prior, CENIDH has been part of a delegation of rights groups who provided a hearing before the Inter-American Commission on Human Rights with information on the social impact of ongoing human rights violations. They called on the government to stop violently repressing peaceful protests and attacking critical voices.
"After using violence to target peaceful protesters, the government of Nicaragua now extends its repression to civil society organisations because of its perception that they have publicly criticized human rights violations committed since the start of protests in April 2018." said CIVICUS' Natalia Gomez.
Restrictions on fundamental freedoms in Nicaragua increased substantively in April when the government violently dispersed demonstrations against changes to the country's social security system. Since then, more than 300 people have been killed and more than 600 remain detained. The government is now targeting CSOs that denounce these human rights violations. Ana Quiroz, the head of one of the organisations and a Costa Rican by birth who had lived and worked in Nicaragua for more than 40 years, was stripped of Nicaraguan nationality and deported.
Shortly before CENIDH's registration was cancelled, police rejected their request to conduct a peaceful march in commemoration of the 70th anniversary of the adoption of the Universal Declaration of Human Rights. CENIDH cancelled the march and only said, they would go to the judicial authorities to ask for the protection of their rights.
"Freedom of association is guaranteed in the constitution of Nicaragua and must be respected at all times. Instead of targeting civil society groups, the government of Nicaragua should rather create an enabling environment for civil society and seek ways to address the needs of its citizens." Gomez continued.
CIVICUS has called on the Nicaraguan authorities to reverse the cancellation of the registration of all civil society organisations, to respect the right to freedom of association and assembly and release all those in detention for participating in peaceful protests.
In September, the CIVICUS Monitor, an online platform that tracks threats to civil society in countries across the globe, downgraded its rating of civic space – the space for civil society – in Nicaragua from "narrowed" to "repressed". Nicaragua is also on the platform's watchlist of countries that have seen an sudden, alarming spike in restrictions on civil space.
For more information please contact:
To request interviews, you can also contact the CIVICUS Press Centre here.