CIVICUS speaks about gender inequalities in Yemen and the role of Yemeni civil society in tackling them with Bilkis Abouosba, founder and chairperson of the Awam Foundation for Development and Culture, a civil society organisation (CSO) founded in 2008 to support women's political participation. Bilkis Abouosba is former vice-chair of the Supreme National Authority for Combatting Corruption in Yemen.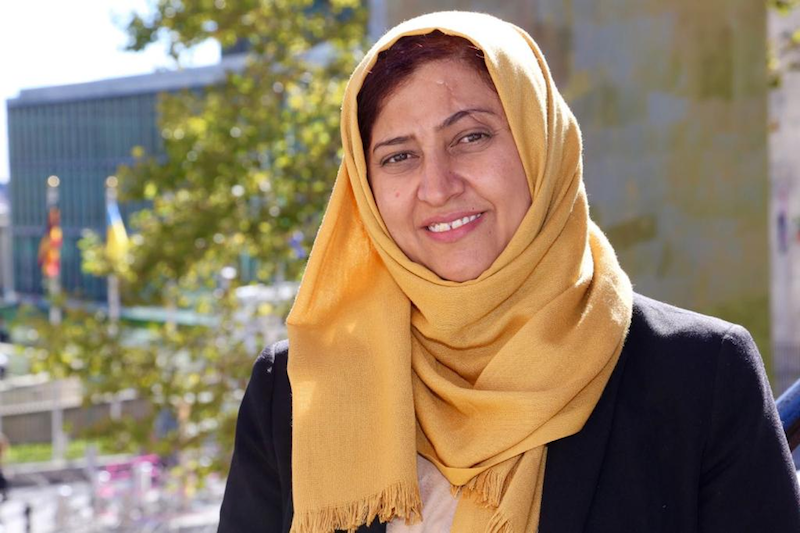 What impact has the COVID-19 pandemic had on women and girls in Yemen?
Yemeni society had been going through a terrible humanitarian crisis since 2015, when war broke out, resulting in unprecedented numbers of casualties and refugees and millions of displaced people. The pandemic only added fuel to the fire. The war had already had a catastrophic effect on the education and healthcare sectors, among others, and the pandemic made the situation worse. It impacted on society at large, but specifically on women.
Due to the war, women's political participation in decision-making bodies decreased; for the first time, relevant political bodies had no female representatives at all. Politically, Yemeni women do not exist, as they are completely absent from the decision-making process. This preannounced a bleak future for Yemeni women.
Many female political leaders had to flee the country. On the positive side, it has been noted that women's participation in online events has risen despite Yemen's poor internet infrastructure and frequent power cuts. The internet has offered Yemeni women, especially those living in rural areas, a venue to participate and express their views around peacebuilding. First, it helped break down societal barriers on women's participation in political events, and then it helped bypass pandemic-related restrictions on gatherings. The internet brings the world closer to Yemeni women and Yemeni women closer to the world.
On the economic front, after war began many women became their families' primary breadwinners, but when the pandemic broke out many lost their jobs or could not go to their workplaces. Moreover, enforcement of COVID-19 regulations was selective and discriminated against women. For instance, hair salons for women had to close but their counterparts for men remained open, which negatively affected female owners of small businesses.
How has civil society, and Awam Foundation more specifically, supported Yemeni women during the pandemic?
In the absence of government policies to help people cope with the pandemic – especially in the north of Yemen, where public officials didn't even acknowledge the reality of COVID-19 – many lost their lives. But CSOs immediately stepped in and played a significant role. Many women-led CSOs, including Awam Foundation, launched COVID-19 awareness campaigns and distributed facemasks among locals and people living in rural areas.
In the early months of the pandemic, CSOs shifted their focus into combatting COVID-19. They relied heavily on online communication to reach affected communities. I was part of an international group fighting COVID-19 that registered available Yemeni doctors for consultation inside the country as well as abroad.
What are the main women's rights issues in Yemen? What would need to happen for them to be tackled effectively?
In my opinion, our biggest loss is in the area of political rights and participation in political decision-making processes and opinion formation. For the first time in 20 years, the current Yemeni government was formed with a total absence of women. Women's exclusion has spread further across sectors, including in peacebuilding efforts.
Political negotiations between rival groups have been held without female representation. Only one woman took part in the last round of negotiations in Stockholm, which resulted in an agreement brokered by the United Nations (UN) between the Yemeni government and the Houthi group Ansar Allah.
But public opinion polls on the peace process have in fact included a small sample of Yemeni women, and since 2015 both UN Women and the office of the UN special envoy have created mechanisms for Yemeni women's inclusion, such as the Yemeni Women's Pact for Peace and Security (known as 'Tawafuq'), a consultative mechanism consisting of a group of 50 women consultants, and a group established in 2018 comprising eight women, among them me, also aimed at channelling female voices to international society. However, neither the current nor former UN special envoys have made use of these groups to bridge gender gaps, as planned. Women are still not part of UN-supported peace negotiations.
Despite this, several feminist coalitions have been formed during the transition period, including the Women Solidarity Network, which I played a key role in establishing. These coalitions succeeded at transmitting women's voices to international organisations, including the UN Security Council. We advocate for the implementation of UN Resolution 1325 on Women, Peace and Security in the Yemeni context. This means that women must be included as equal partners in any upcoming round of peace negotiations.
The government just made a step forward concerning the implementation of UN Resolution 1325. On 8 March the Minister of Social Affairs and Labour announced the institutional structure and terms of reference of a national plan to implement the Resolution.
But overall, we are still concerned about setbacks on women's rights in Yemen. Women cannot move freely anymore; they're required to have a male companion to move from one place to another or to apply for a passport.
What would need to happen for gender inequality to reduce in Yemen?
International organisations can significantly help narrow the gender gap in Yemen by bringing Yemeni women to the negotiation table. As a result, women's participation in the political process will grow in the post-conflict period.
As CSOs we are doing our part by holding workshops on the Convention on the Elimination of All Forms of Discrimination against Women and Security Council resolutions on women, peace and security. In 2021, the UN Committee on the Elimination of Discrimination against Women discussed Yemen's report – a report Awam Foundation contributed to, and which revealed huge gender inequalities. We are now developing mechanisms aimed at narrowing these gaps.
Although political rivals continue to refuse to integrate women until after the war ends, we continue working in this regard. On International Women's Day, we highlighted the need to include women in the peace process and shed light on the toll of gender-based violence on Yemeni women. I am sure our efforts will finally start to pay off.
Civic space in Yemen is rated 'closed' by the CIVICUS Monitor.
Get in touch with Awam Foundation for Development and Culture through its website or its Facebook page, and follow @FoundationAwam on Twitter.