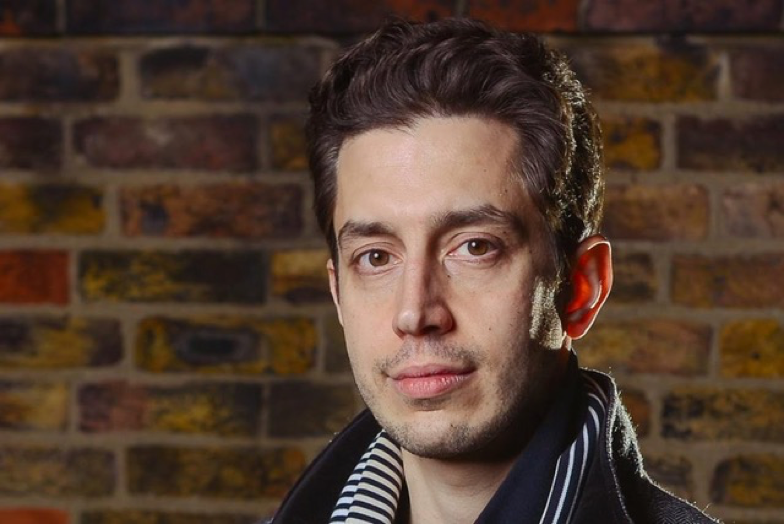 CIVICUS speaks with Saleem Vaillancourt, a journalist and media producer who works to promote the rights of Iran's Bahá'í community and to encourage positive action to realise human rights. Saleem works with the street art for social justice project, Paint the Change.
Can you tell us how your work began?
I work closely with the Iranian-Canadian journalist and filmmaker, Maziar Bahari. Maziar's story is well known. He was jailed in Iran and held in solitary confinement in 2009 after covering the Iran election crisis. He was released after an international campaign and the book he wrote about his ordeal, 'Then They Came for Me', was made into a film, 'Rosewater', by Jon Stewart. Maziar was no longer simply a journalist; he was also a human rights advocate. Once released, he could talk about all the things going on in Iran that he couldn't when he was working in Iran.
Chief among these is the situation of the Bahá'í community, which is the largest religious minority in Iran. They are persecuted by the Iranian government because their beliefs come up against the fundamentalist interpretation of Islam practised by the government. Bahá'ís are routinely arbitrarily detained, held either without charge or under false charges and jailed. They are denied the right to go to university. There is a lot of misinformation and propaganda against them from the state media.
I'm a Bahá'í and I worked with the Bahá'í community, and also as a journalist and in public communications, and that's how my path crossed with Maziar. In 2014 he made a documentary, 'To Light a Candle', about the story of the Bahá'ís and particularly about the denial of their right to education, and their response, which was to create an informal educational project – an underground university – in which they created opportunities to educate themselves. This is a programme that for 30 years has given thousands of people an education, many of whom have gone on to pursue graduate studies in western universities. It's a huge success and a major example of constructive resilience, or what Maziar calls peaceful resistance: meeting injustice not with conflict but by building a positive alternative to overcome the situation.
I joined him for what was meant to be a short time to help promote his film and things grew from there. We created a campaign, 'Education is not a Crime', which is a street art and human rights campaign in which we use murals to talk about the story of the Bahá'í in Iran and more broadly to try to address education inequity and uneven access to education in other contexts as well.
What are the key methods by which you work?
We create murals, and then the murals have a social media dimension, because we share them online as videos and create local conversations, explaining why we are doing these, and especially relating what we are doing to local stories. For example we painted 20 murals in Harlem in New York, and people in this neighbourhood really saw a parallel in our work between Bahá'ís in Iran and the African-American experience of discrimination and the attempt to overcome discrimination, including in the area of education. We made a documentary about that in 2017, 'Changing the World One Wall at a Time,' which has been screened around the world.
This led to an initiative in Detroit, where we've partnered with the City of Detroit and local schools. The city government was already working to encourage school attendance, which is something we care about in terms of access to education. They created a bus route called the 'GOAL Line' – GOAL stands for 'get on and learn' – but we observed that the bus route had no shelters, so we offered to build some shelters and put artwork on them. The artwork was created in art workshops through a partnership with local students and local artists. The works represent the community in a direct way and create a visual cue in the community around the issue of education. In this activity, we moved from the area of pure awareness-raising to a kind of indirect social action.
We're also starting to do a locally orientated street art project in London, producing work with local communities that celebrates local heroes, people who contribute to their community, whether they are known by their community or not. We put them on the side of buildings so they become positive stories that can encourage local young people.
Another thing we have been doing is producing an oral history video series in the USA, about the Bahá'í community, not only about Iran but also about the work of the community to promote race unity over the past several generations. Again, this is about telling a positive story and something that perhaps helps others in US society to look again at the issue of race – something that is obviously very charged and challenging – and find other ways of addressing it.
So that's what I do. It's a chance for both Maziar and I to talk about issues we think are important, but that are not limited to a focus on the Bahá'í community. Our work is at the intersection of human rights, social action and media. Sometimes it is about raising awareness or fighting instances of violations of human rights, as with the rights of the Bahá'í in Iran, but more and more now it is about finding positive stories and celebrating them through street art or a film or through other media. We want to do this in a way that can help a community see a positive version of themselves and put that at the centre of their own narrative.
What would you say you do that is different from the conventional work of a human rights organisation?
Because we are principally a media-driven group, we try to apply our media work to human rights issues and social issues, and we are looking to go beyond human rights awareness-raising to try to contribute to social processes in local communities. The Detroit project is an example of that. So that's a kind of social action that's distinct from awareness-raising as a conventional discipline.
We are trying to do human rights work and social action work together. We see them as different sides of basically the same work. We want to reach audiences that perhaps haven't been engaged in human rights discussions or social action before, through media and through education workshops. So our focus is not so much on informing policy-makers, but on trying to reach local communities through accessible media and artforms.
What are the challenges faced when defending the rights of Bahá'í people in Iran?
I am also involved in IranWire, an independent news website. I know through this that Iranian journalists are targeted. Our site was recently down for a few hours over the course of several days because of a sustained denial of service attack originating from Iran.
Maziar is continually attacked on Twitter and by Iranian state media, as are other people we work with. Many people who have worked in the public space on the issue of the Bahá'ís are vilified by the Iranian media. When Maziar and others talk to United Nations institutions, they get criticised and there is a lot of disinformation spread about them. It's clear that the Iranian authorities seek to discredit people through disinformation to try to limit their legitimacy in the international space when they talk about human rights issues happening inside Iran. The Iranian government attempts to control the narrative.
Turning to your work outside Iran, what would you say the major successes and challenges have been?
I think the big success we've had so far is the initiative to create the murals, especially in Harlem but also around the world: to create a story out of them, and for that story to be something that people respond to, and for us to find a way to relate that story to other situations around the world.
In the early stage of developing these murals in New York, after we had produced one or two in Harlem, the questions of these parallels between the Bahá'ís and the African-American community started to sit up. It's not a parallel in terms of scale or severity or even of type, but it's a parallel in terms of individual experiences and the ideology that has created a situation. African-American people who learned about the project brought that parallel to the fore in our discussions. Here was one community that is struggling identifying with the struggle of another community, that was undergoing the kind of suffering that makes the community more empathetic and more aware of the struggles of another.
We decided to tell that story as much as we could and in our work in Harlem to work with local artists and local community leaders as much as possible, and to hold educational workshops for young people around the creation of the murals. I think the fact that those murals became possible and were welcomed into the community, that there was the opportunity to see these parallels and to tell that story around the world, and that the story was broadcast inside Iran in Persian on satellite TV and seen by millions of people there, was probably the biggest success.
I think there's not so much one major challenge we have been unable to overcome, although there are things that are harder to do than others, but it's more that nobody is particularly out there asking for anybody to do something positive. I think a lot of people have a great desire, appetite and thirst for encountering positive stories even if they address challenging issues, but it's not something you see being asked for in market terms, and in terms of what audience there is, and what funding you can get to do projects.
So it is a challenge to create the audience and explain our reasons for approaching our work as we do, and maintain these projects, because it's not something that is being asked for in a commercial sense. I don't necessarily mean commercial in terms of being driven by profit, but even non-profitable works need grants, and while there are grants that are tailored around work that tries to introduce positive narratives, it takes a lot of effort to identify them and to massage an idea into a format that would meet the requirements of a particular grant.
What more needs to change, and what further support is needed, to enable your work to achieve even more?
I think there are two levels. At the level of human attitudes, in general the world is in a very difficult place and much of what's happening is turning people towards conflict. I think what needs to change – in order for the kind of stories we want to produce and tell to be more easily relatable and for people to be able to understand what we are getting at – is that people need to be orientated towards positive stories, towards sharing and finding them, and to seeing the world through the lens of positivity. This is not to deny there are negative things or pretend that everything is fine, but to say that we address a challenge or a difficulty not by more contention but by means of conciliation and friendliness. I think if people's minds are orientated more that way they would be likelier to seek out or ask for the positive stories we try to tell. I'm not saying we've nailed that formula, but that's our motivation and we're trying to work in that direction.
At the structural level I think the kinds of grants, and often the kinds of initiatives that organisations want to support or are asking for, need to change. Again, it is possible to do that in terms of some grants that exist, but there is a lack of a structure and approach that says: this organisation really wants to find positive stories because positive stories change the nature of a society's view of how to deal with challenging issues.
So much of what civil society does is about countering things that are negative. This is important work, but I also think that civil society should be going towards what it wants to see in the future. If there could be a harmonious sense across civil society about what the future ought to be, how human rights ought to be respected and what the nature of society should be in order to realise those ideals, then I think we could move towards shared civil society agendas that make it possible to work for these goals more easily.
In the civil society space, the media space and the human rights space – and partly because we are all too busy but also because there is no clearing house or central organising system – I don't know who in civil society would want to work in the same way. But I'd love to know more about who's out there and what they're doing, in order to more easily find the appropriate partners.
Civic space in Iran is rated as 'closed' by the CIVICUS Monitor.
Get in touch with Paint the Change through its website.