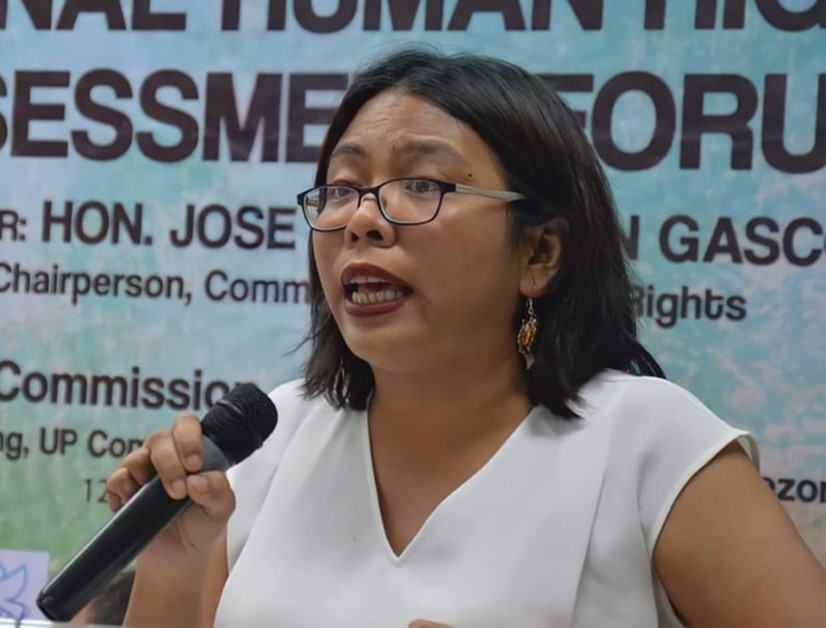 Following a year that saw further deterioration of the rule of law and rising impunity for rampant human rights violations in the Philippines, CIVICUS speaks to Cristina Palabay, Secretary General of the Karapatan Alliance for the Advancement of People's Rights, a national alliance of civil society organisations (CSOs) and activists working for the promotion and protection of human rights in the Philippines. Established in 1995, Karapatan has 16 regional chapters and includes more than 40 member CSOs. It documents and denounces extrajudicial killings, enforced disappearances, arbitrary imprisonment and militarisation, helps organise mass actions to expose human rights violations and challenge the prevailing culture of impunity, and monitors peace negotiations between the government and the insurgent National Democratic Front of the Philippines.
How would you describe the environment for civil society in the Philippines over the past year?
Spaces for civil society in the Philippines have continued to shrink as the climate of impunity has worsened. Over the past year, several developments have negatively impacted on civic space.
First, militarisation has deepened and intensified. Policies consistent with the government's counterinsurgency programme enabled increased military deployment to civilian communities and the use of civilian agencies for combat or military operations. In November 2018, through Memorandum Order #32, President Rodrigo Duterte directed the deployment of more soldiers and police officers in Bicol, Negros Occidental, Negros Oriental and Samar regions to "suppress lawless violence and acts of terror." In what amounts to de facto martial law, it also reinforced guidelines for the implementation of a national emergency. Issued in December 2018, Executive Order #70 has weaponised the government's civilian bureaucracy to take part in combat or military operations in communities.
Second, policies and laws are increasingly being used against civil society organisations (CSOs). In November 2018, the Securities and Exchange Commission (SEC) issued Memorandum Circular #15, which at first glance seemed like an innocuous set of guidelines to protect CSOs against being used as covers for money laundering and terrorist financing. But in a context of worsening human rights violations and impunity, a closer look revealed a severe infringement of the rights to free speech and political thought, the right to hold religious beliefs, the right of civil society to form associations and conduct advocacy, and the right to privacy of CSO officers, members, clients and beneficiaries. The memorandum gave the SEC unchecked discretion to identify CSOs considered to be "at risk" on the basis of information provided by government agencies such as the Philippine National Police (PNP). This puts at risk all progressive organisations, and particularly those that the PNP and the government have openly threatened. The memorandum also gave the SEC and government authorities the power to compel the disclosure of information from CSOs without a court order. There is an express provision in the SEC's powers to enlist the aid of and deputise any enforcement agencies of the government, civil or military, to conduct investigations and gather information. This poses the danger that the SEC will be used for profiling, intelligence gathering, surveillance, harassment and other possible violations of CSO rights.
A third element that is expected to impact gravely on people's rights and civil liberties is the proposed amendment of the anti-terrorism law, the Human Security Act of 2007. If passed, the new law will remove all provisions and language pertaining to the duty of the state under international law to protect people from terrorist acts in a manner that is consistent with and that respects and promotes human rights. It will allow the state to disregard due process and the right to privacy when putting suspected terrorists under surveillance and to impose disproportionate, cruel and unjust punishments, including prison terms and life imprisonment, to individuals alleged to have committed broadly and vaguely defined terrorist crimes. Additionally, it will remove protections, and therefore allow for gross violations of the right against illegal and arbitrary detention, torture and cruel and degrading treatment. It will open the way to gross violations of the rights to the freedom of movement and due process through provisions allowing for the suspension or cancellation of passports, the issuance of hold departure orders and the imposition of limits on the right to travel of individuals, even on mere suspicion of terrorism. Finally, it will remove provisions that impose penalties on or lower penalties for state authorities that violate basic civil and political rights.
What obstacles do human rights defenders (HRDs) face in doing their work? Are certain categories of activists specifically targeted?
HRDs face constant and increasing threats and direct attacks, including extrajudicial killings, disappearances, torture and other horrible violations of human rights. HRDs work to protect and promote human rights and fundamental freedoms. Unfortunately, being an HRD in a country like the Philippines means putting oneself in the line of fire, as the same rights violations that HRDs rise up against are committed against them. The most frequent targets are grassroots activists, farmers, workers, indigenous peoples and members of people's and mass organisations. The prevailing impunity for crimes committed against them perpetuates non-accountability for human rights abuses.
In the course of the government's sham drug war, its counterinsurgency programme and the continuity of martial law in Mindanao region, extrajudicial killings committed or incited by state forces have been on the rise. From 2001 to December 2018, Karapatan documented the killing of 760 HRDs, most of them rural and indigenous HRDs, along with trade union leaders and members. Under the Duterte administration, at least one HRD is killed every week. Karapatan has lost 47 of our human rights workers, who were killed in the course of their work to document and investigate rights violations.
Among the most recent assassinated HRDs was Sergio Atay, a member of the local peasant group Magbabaul, who was found tied up, with signs of torture and five bullets to his head on 29 January 2019. He and his wife had been under surveillance and had been visited by the military several times over the past year for their active involvement in Magbabaul. The next day peace consultant Randy Felix Malavao was shot dead, allegedly by a death squad, despite the protections granted by the Joint Agreement on Safety and Immunity Guarantees (JASIG) signed by the government and the National Democratic Front of the Philippines. On the same day, two farmers from the Lumad indigenous group, Emel Tejero and Randel Gallego, were found dead after going missing when military troops indiscriminately fired at them and other peasants while on their way home two days earlier.
Mass killings of land rights activists are common, as is the killing of human rights lawyers working pro bono for peasants, environmentalists, activists, political prisoners and social movement organisations, as was the case of Benjamin Ramos, who was shot dead in November 2018. No category of HRDs has been spared. Victims have also included Mariam Acob, a grantee of the Urgent Action Fund for Women's Rights and a paralegal of Kawahib Moro Human Rights Alliance, a member organisation of Karapatan, who was killed in her home in September 2018, and Danny Boy Bautista, a unionist in the Sumifru company in Compostela Valley, who was shot dead in October 2018.
Journalists are also systematically harassed and killed: at least 12 have been assassinated under the Duterte administration so far, the latest being Joey Llana, a radio anchor from Albay who was ambushed and shot dead in July 2018, after being the target of repeated death threats.
Short of getting killed, HRDs routinely see their offices raided, burned and subject to surveillance. This achieves the aim of sowing terror among them and the communities they serve. Most of them are subjected to surveillance, stalked, harassed, have their photos taken and receive threatening phone calls and text messages. This is facilitated by the fact that they are systematically targeted by vilification campaigns, both offline and online, that label them as 'communist fronts', 'terrorist lovers,' 'anti-development' and even 'lazy and home-wreckers'.
Also on the rise is the use of illegal arrests and the detention and prosecution of peace advocates and HRDs on the basis of trumped-up criminal charges. These are used to instil fear and silence HRDs or prevent them from doing their work. New tactics are now being applied on top of subsisting repressive jurisprudence, some of which dates back to the Marcos dictatorship of 1971 to 1982.
A recent case was that of two Lumad peasant leaders, Datu Jomorito Guaynon and Ireneo Udarbe, who went missing on 28 January 2019 and resurfaced in custody the next day, facing accusations of attempted murder and illegal possession of firearms and explosives. Barely two days later, four farmers who were tagged by the police as being leaders of the outlawed New People's Army (NPA), but who denied being leaders or members of the group, were arrested for illegal possession of guns and explosives during a police raid. In December 2018, 67-year old peace consultant Rey Casambre and his 72-year old wife were arrested under charges of illegal possession of firearms and explosives and murder.
Arrests of peace consultants, which are a serious violation of JASIG, are fairly common and always follow a similar pattern, as seen in various cases over the past few months, including that of Vicente Ladlad in November 2018. But trumped-up charges are also used against other categories of HRDs, including women's rights advocates such as Nerita de Castro, who was arrested and accused of murder and attempted murder in May 2018, and trade unionists such as Rowena and Oliver Rosales, former members of a government workers' organisation who were forcibly taken by armed men and arrested in August 2018 for the alleged illegal possession of firearms and explosives.
Often, fabricated charges are packaged as common crimes, conveniently to hide the political nature of the alleged acts, deny bail, make a conviction on simulated evidence easier, or even scoff at the advocacy work that HRDs do. It was therefore no surprise that, although President Duterte was initially open to the unconditional release of all political prisoners, he later backtracked and instead arrested and detained 225 more. There are now approximately 540 political prisoners in the Philippines, most of them HRDs.
Recently, the names of at least 657 individuals, including those of at least 80 HRDs and peace advocates, were included in a court petition proscribing the Communist Party of the Philippines and the NPA as terrorist organisations. The fake terror list included United Nations (UN) Special Rapporteur Victoria Tauli-Corpuz. This emphasised the spurious use of the vague, arbitrary and draconian provisions of the Anti-Terror Law not only to justify attacks against defenders, but also as a form of reprisal for their criticism of the human rights record of President Duterte.
Additionally, immigration laws and policies are being used against non-Filipino HRDs such as Patricia Fox, an Australian nun who angered President Duterte by joining anti-government protests and was kicked out of the country.
How has civil society responded to human rights violations? What kind of work is Karapatan Alliance doing?
Karapatan monitors and documents human rights violations through fact-finding and search missions, key informant interviews and community research. We provide direct services to victims and their families. This includes raising and providing resources for legal, paralegal and medical expenses and independent autopsy and forensic examinations, and help to organise former and current political prisoners, relatives and friends of those killed and disappeared. We also work on education, for instance through know-your-rights seminars, and provide training on paralegal and documentation work, evidence gathering and preservation, digital security and advocacy, and engaging with international human rights mechanisms. In terms of public information, we regularly release urgent alerts, statements and appeals for action on specific cases of human rights violations. We also release quarterly and annual reports on the human rights situation in the Philippines. We carry out public advocacy and organise mobilisations for justice and peace alongside other CSOs and people's organisations.
Last but not least, we work to strengthen local and national networks of HRDs and advocates. We co-convene the Ecumenical Voice for Peace and Human Rights in the Philippines and the Philippine UPR (Universal Periodic Review) Watch, which are Philippine-based platforms for engagement with international human rights mechanisms. We are among the convenors of the Movement Against Tyranny, a national alliance of groups and individuals working amid Duterte's tyrannical ways. We have lobbied for the passage of laws pertaining to human rights, such as an anti-torture law, anti-enforced disappearance law and a law regarding the indemnification of martial law victims; we are currently lobbying for the enactment of national legislation or local ordinances on the recognition and protection of HRDs. We are members of CIVICUS, Forum Asia, and the World Organisation Against Torture SOS-Torture network, and our officers are part of the Asia Pacific Forum on Women, Law and Development and the Urgent Action Fund for Women's Rights.
And of course we are not the only ones who are active in human rights causes. Filipino civil society has persevered in pursuing justice and accountability for victims and survivors of human rights violations. In a very adverse context, all positive developments have been driven by civil society's persistence. Those included the cases of the highly unusual convictions of police officers for killing a teenager in the course of their 'war against drugs', and of a retired general accused of kidnapping and serious illegal detention over the enforced disappearance of two students more than 12 years ago.
Despite restrictions, civil society has continued to mobilise in the face of injustice, staging mass protests on various occasions throughout 2018, including during the president's State of the Nation Address in July, the commemoration of the 46th anniversary of the declaration of Martial Law in September and on International Human Rights Day in December.
Is President Duterte becoming, or has he become, a dictator? How much room is there left for dissent?
In a society with all the trappings of false democracy, President Duterte is quickly treading the path of a dictator. While a supposed democratic form of government exists, with the continuing existence of the three branches of government, Duterte's control and influence is felt in the three branches, through his political connections and placement of active or retired military officials in the civilian bureaucracy. What has yet to happen is an open declaration of nationwide martial law. In general, there is very little room for dissent, especially in the far-flung rural areas where the majority of the population live, because it is there where militarisation is rampant and there is more active and open suppression of dissenting voices.
President Duterte's approval ratings recently fell. Why did this happen? Does this bring hope of an imminent reversal of his most regressive anti-right policies?
President Duterte's recent survey ratings have varied, from a drop of his approval ratings to an alleged increase in trust ratings. These survey results can be interpreted in various ways. One view is that survey companies tend to be influenced by political conditions, including the dominance of a political faction in government and economic interests. Another view is that Duterte's approval ratings have dropped because his tax policy package resulted in one of the highest inflation rates in recent history and therefore affected the poor and middle-class majority. A further view is that his approval ratings went up because of his fear-mongering. When a head of state creates an atmosphere of fear, propounded by incidents of alleged terrorist acts or acts that supposedly give the biggest iron-fisted blow to threats to peace and public order, his 'strongman' response is most welcomed by those from the middle or upper class who benefit from such situations.
On the whole, Duterte's most regressive and suppressive policies will only be reversed through regime change. Duterte's policies have only heightened already existing institutional and systematic problems, so what is required is systemic and institutional change.
What is the government's position toward international institutions?
The Duterte government actively engages with international institutions or foreign states that support its policies and, in turn, benefits from such relations. It continues to have strong diplomatic relations with the USA, because of its continuing advisory and technical support and financial aid for the Philippines' military and police, and also due to US investments in the Philippines and in South East Asia, and with China, because of numerous onerous debt packages and projects.
In contrast, those who raise their concerns about the state's noncompliance with international human rights instruments and obligations, including UN experts, other states and international CSOs, are at the receiving end of the Duterte government's public admonitions. The Philippines' threat to withdraw from the International Criminal Court (ICC) is among the various manifestations of such a position. All indications that withdrawal will take place are already out there: official notice has been given, a non-cooperative attitude is on display and ICC prosecutors have been threatened.
How can international civil society support Filipino activists and CSOs and contribute to safeguarding civic space in the Philippines?
For one, international civil society must not relent in expressing solidarity with Filipino HRDs and CSOs, in every possible way, in every possible venue. Each violation of human rights by the Duterte government, including its campaign to enact and implement laws and policies that further constrict civic space, should be condemned by the international community. Each step towards the struggle for justice and accountability should be supported, including the filing of cases and the push for policy reform for the recognition and protection of HRDs. There should also be support to push for the initiation of an independent international investigation through UN mechanisms. Diplomatic initiatives by parliaments and governments the world over should be pressed towards the withdrawal of financial aid for the Philippines' military and police. More importantly, long-term solidarity links with civil society and activists should be pursued to enable international support for the Filipino people's legitimate exercise and enjoyment of our rights.
Civic space in the Philippines is rated as 'obstructed' by the CIVICUS Monitor
Get in touch with Karapatan through its website or Facebook page, or follow @karapatan and @TinayPalabay on Twitter