Ahead of the publication of the 2018 State of Civil Society Report on the theme of 'Reimagining Democracy', we are interviewing civil society activists and leaders about their work to promote democratic practices and principles, the challenges they encounter and the victories they score in doing so. CIVICUS speaks to the Iranian-born political cartoonist Nik Kowsar, who was jailed for his humorous criticism before eventually emigrating to Canada, where he became a citizen. A former recipient of the international Award for Courage for Editorial Cartooning, he currently resides in the United States.
1. Would you tell us the story of that crocodile you drew, and how it changed your life?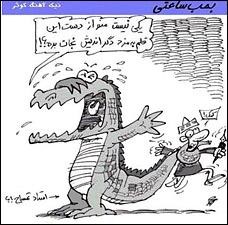 I was born in Iran, and I had always lived in Iran until I had to get out of the country in 2003. I was a geologist by training and a cartoonist by trade. In 2000 I drew a cartoon and went to prison for it. My drawing apparently caused a national security issue: thousands of clergy students gathered and shouted for my death and they sat there for four nights, until I was arrested.
All I had done was draw a crocodile that was shedding crocodile tears and strangling a journalist, while claiming that the journalist was killing him. The name that I gave the crocodile rhymed with the name of an ayatollah. Of course, I denied any resemblance between the two, but still, you know, there was a political message there. From that day on, I became a sponsor for Lacoste – they didn't sponsor me, but I started buying the shirts with the crocodile logo for myself, and I always wear them as a symbol and a reminder.
Long story short, I went to prison and underwent interrogation, and eventually I walked free. But I didn't quit my job as a cartoonist and I started receiving death threats that eventually got serious, and in 2003 I had to escape. I had to leave my wife and daughter behind – they were only able to join me in Canada four years later, in 2007.
2. Did you see cartoons as a safer means of expression, a way of saying some things without saying them, when speech is heavily censored?
In Iran we used to say: 'We have freedom of speech, what we don't have is freedom after speech'. When you produce content that powerful people or organisations dislike, no matter how that content is packaged, they will try to shut you down by all means, including allegations and criminal charges like undermining national security, working with the enemy, indecency or attacking Islam. Anything can be used against you in Iran – and in other Islamic countries as well. I've been working with Tunisian and Palestinian cartoonists, and they all have problems with their governments.
What is said with a cartoon is more difficult to erase than anything else: a good cartoon is even more valuable than a thousand words, because it stays in your mind for ages. A 'joke' is a serious matter: it goes directly to the point, it exposes the absurd. In a way, cartoonists can be the conscience, the moral compass of a society – it is not a matter of right and left, but a matter of right or wrong. So, cartoonists are very important, and it is not wonder that many governments – from Iran to Equatorial Guinea to Turkey – are trying to pressure them into silence.
3. What have you done since leaving Iran?
While in Canada, I studied journalism and worked with a news agency for three years. I joined IFEX in 2008, and starting in 2009 I ran a news website specifically for and about Iran. This became one of the top news websites on Iranian issues, although it was filtered and firewalled in Iran. At some point, however, we stopped getting funding; we understood that the Obama administration's policies towards Iran, their efforts to connect with the regime, were a major reason why other organisations stopped funding us. We had to let it go.
As a cartoonist with fibromyalgia, who has had to stop drawing as a professional, I now work with Cartoonist Rights Network International. I was once a client, now I am a board member. We are a human rights organisation, focused on the freedom of expression, and we support cartoonists in distress: cartoonists who are oppressed by the regimes in their countries, threatened, arrested or sent to prison.
Cartoonists are vulnerable, and even more so after the Charlie Hebdo massacre. There is increasing solidarity among them, and they are better connected now, through our organisation and others – but still, they are in danger. What needs to be done is provide a means of sustenance for cartoonists who are in trouble. That's very difficult, because non-profits are not rich, and also because a cartoonist cannot live off assistance funds forever – they need to be paid to do what they do best.
Finally, as a geologist and an expert on Iran's water problems, I am back to working on water issues. Iran has a big water problem, which is possibly going to create big chaos in the near future. There was an uprising in December 2017 and January 2018, and only in cities hit by water crisis and drought, where people were too desperate and felt they had nothing left to lose, were the protests not easily contained and people were killed. We will see more and more clashes in areas that are hit by drought.
4. Do you think environmental issues, including water, should be treated as political issues?
Most definitely. That is exactly what I am working on. Water may easily become a major political issue, in Iran and in the whole Middle East and North Africa (MENA) region, an already unstable one. Iran has always been a dry country, with rainfall about a third of the median around the world. But for 3,500 years Iranians were able to manage their water resources through various technologies. Over the past 50 years, however, mega-dams and deep wells have ruined our environment and most aquifers have been depleted; as a result, 85 percent of our groundwater is now gone. Climate change has only made it worse: last year, we had 78 percent less snow storage in our mountains compared to the previous year.
Now, Iranians may be oppressed because of their beliefs and ideas, but when there's not enough water to drink and produce food, they have reached a tipping point. In Syria the drought worsened from 2006 to 2009, as a result of which a million people from the north-eastern provinces had to leave their lands and migrate to the margins of bigger cities. When the Arab Spring started, it sparked protests in Syria as well – but in this case, they led to civil war. We are talking about farmers and herdsmen, people who had lost their livelihoods, many of whom had joined militant groups. Factor in an intolerant, authoritarian government that could not manage the protests, and there you go. Something similar could happen in Iran.
5. Are you saying civil war is a likely outcome for Iran? Isn't there any way pro-democracy forces could turn the discontent in their favour?
That's what some of us are worrying about. Pressure for water could, maybe, lead to a democratic opening as well. We are educating the public about the water situation. Unfortunately, many political groups have no clue about environmental issues – they have never cared about them, don't understand them and don't see how they could connect to their political struggles. In trying to change this, I am currently working on a documentary about water, connecting the struggles with water shortages that we are seeing in places as diverse as Cape Town in South Africa, Seville in Spain and even the Vatican City and some parts of the US. Our contacts in Iran are collecting material for us and documenting the situation as well, and we are doing a collaborative bilingual project, in English and Persian, to educate the public, including academics and politicians. Because if we don't do anything about it, rather than democracy what we will get is more uprisings, repression, and hundreds or thousands of people killed in places hit by drought.
Civic space in Iran is rated as 'closed' by the CIVICUS Monitor, indicating overwhelming restrictions in the freedoms of association, peaceful assembly and expression.
Get in touch with Nik Kowsar through his Facebook page, or follow @nikahang on Twitter.